Technavio's global botanical extracts market research report shown below forecasts the market to grow at a CAGR of over 8% during the forecast period of 2019-2023.
The sources of natural ingredients include herbs, fruits, flowers, leaves, minerals, and water. The demand for natural beauty products is growing because of increased health awareness among consumers globally. The issues such as scalp irritations, scalp allergies and hair loss have propelled the demand for natural beauty products that include botanical extracts as key ingredients.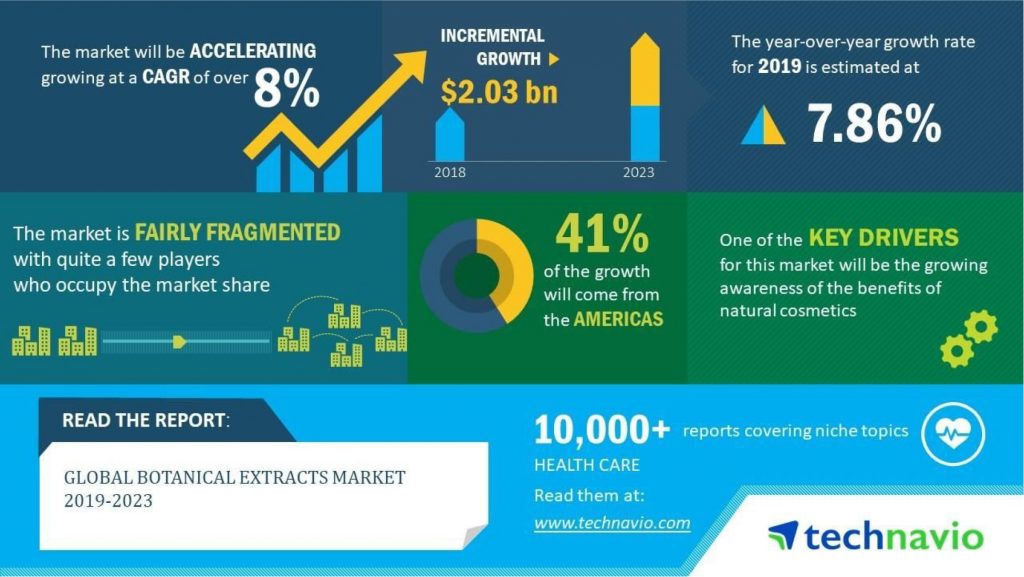 According to a senior research analyst at Technavio, "The consumers are seeking effective and natural ways to address problems. Natural hair care products consisting of botanical extracts have antioxidants and antimicrobial properties, which are good for the scalp. For instance, botanical extracts containing phenols can penetrate bacterial cells and coagulate their content."
The Americas held the largest share of the market in 2018, accounting for 42% share. It was followed by EMEA and APAC respectively. The Americas is expected to dominate the market throughout the period 2019-2023.
Analysts identified two demographics that make up the strongest part of the clean beauty base: younger millennials (18-25) who are concerned primarily with environmental impact (and are already familiar with the principles of natural ingredients, thanks to the ongoing Korean beauty phenomenon), and an older generation (40 and up) focused on health benefits.